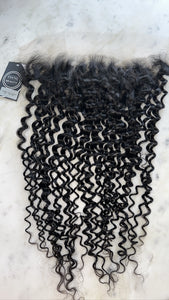 BRAZILIAN CURLY HD FRONTAL 13x6 
ESSTIQ HD Frontals are made with Raw Hair and the Thinnest lace to give you that SCALP SCALP look.
The FINEST and BEST Quality Frontals are HD- We sell stocked items.  Pre-order is also available if sold out.
HD frontals is the most nautral look you will get to complete your install. We do not compromise quantity over quality.
Our Motto is "If we wouldn't wear it, we don't sell it"
Easy to dyed, no tangling or shedding, can be re-use
13x6 Frontal, natural colour